Fosdick Bible Pages
These are Bible pages loose from the Bible, so the date of the
Bible they came from is unknown. It was difficult to determine
if it was a deparate Bible -- this page (front and back) was carefully
sewn into the Davis Bible and during my initial examinations I
thought it was part of that Bible, with the information copied from
another Bible.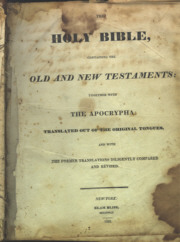 I have since decided this is the original page and not a copy, and it
was removed from its original Bible and sewn into this Bible (the
Bible of the daughter). The Bible it currently exists in is the Holy
Bible Containing the Old and New Testaments, Elam Bliss, New York,
1828.
This page is similar to those used to prove birth and death before
government provided certificates. It would not surprise me that Silas
was a Rev War veteran and this was removed from the original
to provide evidence for a pension.
It appears this family originated in Oyster Bay, New York.
These pages and Bible were transcribed by and in possession of
Tracy St. Claire, tracy@stclaire.org.
SURNAMES:
FOSDICK
HALLOCK
WASHBURN
DAVIS
-----------------TRANSCRIPT STARTS-----------------
[Page One]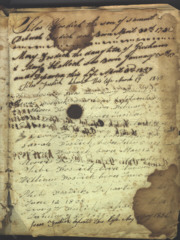 Silas Fosdick the son of Samuel & Deborah Fosdick was Born
April 30th 1753
Mary Fosdick the daughter of Gershum and Mary Hallock was Born
January 30th 176- and Departed this Life April 3rd 1837
Silas Fosdick departed this life March 19th 1845
The ages of Silas and Mary Fosdick's Children
Isaac Fosdick was born September 15 178-
Gershum Fosdick was born February 1st 1782 [?]
Deborah Fosdick was born February ---
[entry illegible 1791 written in later]
George Fosdick born May 29th 1793
Sarah Fosdick born July 6th 179-
Mary Fosdick born May 12 1797 [or 1799]
Morris Fosdick born August 15th 18--
Phebe Fosdick born November ---
Phebe Fosdick departed this life June 12 1808
George W. Fosdick Departed this Life January 30 1833
Isaac Fosdick departed this life May 8 Day [?] 1834
[Page Two -- Reverse]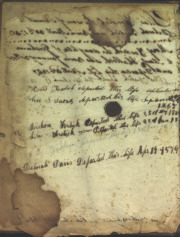 Moris Fosdick departed this life September 10 18--
John S. Davis departed this life September 6 1865
Gershon Fosdick departed this life 25 of May 1869
Silas Fosdick Departed this Life 25 of Jan 1875
Mary Washburn Departed this life 28 of June 1878
Deborah Davis Departed this life Apr 19 1879
[note: In the middle of this page is an ink seal. There was a fold
over some of the dates -- they could not be fully scanned without
damaging the document.]

------------END TRANSCRIPT-------------------------------