Ford Bible
The Holy Bible Containing the Old and New Testaments,
stereotyped for the American Bible Society by D. & G.
Bruce, New York, 1824. Hills # 493. O"Callaghan page
166 #6.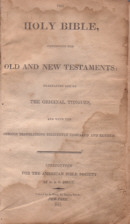 This Bible is in kind of bad shape. The binding is original
but appears to have been repaired at some time. There are
pages and parts of pages missing within, at the front and back.
All of the content is intact. Many places were repaired with
scotch tape, which keeps me from scanning clearly in many
places.
It is difficult to determine in what order these entries were written.
Please examine the scans and draw your own conclusions, as
the writing is ambiguous because of the handwriting & damage.

It looks like my transcribing is off, when you compare page one
to page three, but look at the scans and be the judge.
Transcribed by and in the possession of Tracy St. Claire,
tracy@stclaire.org.
SURNAMES:
FORD
THORNTON

-----------------TRANSCRIPT STARTS-----------------
[Page One -- Front EndPage]
Mary Francis Ford was [rip] Sept. 13, 1861
------------
William [rip] was b[rip]e Jan. 8, 1864
------------
Andrew J. Ford was borne Sept. 13. 1866
------------
Phoebe. N Ford was born Nov. 22. 1871
------------
Lilli[rip] [rip] Ford was bor[rip] Oct 12 1873
[Page Two -- Reverse of Page One]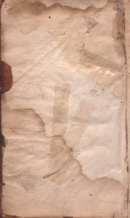 Mr. Alonzo H. Ford
[Page Three -- Reverse of New Testament Title Page]
[The top line is difficult to read, it is so faint]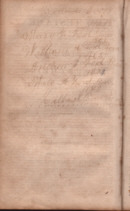 Mary T. Ford Born 1863
William H. Ford Born 1865
Andrew J. Ford Born 1871
Phebe A. Ford Born 1873
Lillie S. Ford Born
[Page Four -- Last Page of New Testament]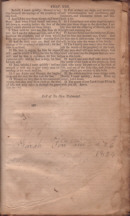 Sarah Ford Died Dec. 26th 1834
[Page Five -- Reverse of Page Four]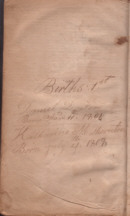 Births: 1st
Daniel D. Ford Born Nov. the 11 1801
Katharine M. Thornton Born July the 21 1809
[Page Six -- Opposite Page Five]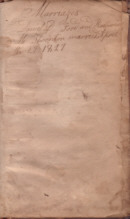 Marriages
Daniel D Ford and Katharine M. Thornton married
April the 29 1827
[Page Seven -- Reverse of Page Six]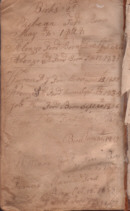 Phebe an Ford Born May the 8, 1828
-------------
Alonzo Ford Born Dec the 16, 1829
-------------
Alonzo A. Ford Born Feb the 13, 1831
-------------
Warren A. J. Ford Born Dec. the 13 1832
-------------
Alonzo S. H. Ford Born Sept. the 27 1834
-------------
Job H. Ford Born Sept. the 20 1836
-------------
Harriet E. Ford Born Octthe 31 1838
-------------
[blank] Born Jan 30th 1841
William B. F. Ford Born March 2th , 1842
Francis Marion Ford Born Oct. 18th 1844
Daniel Ney Ford Born June 21 1847
[Page Eight -- Opposite Page Seven, Half is Missing]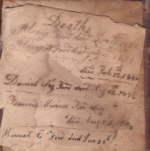 Deaths
Alonzo Ford died Dec the 16 1829
Alonzo A. Ford died July the 10 1833
[blank] died Feb. the 12, 1841
Daniel Nay Ford died Aug. the 12 184[rip]
Francis Marion Ford died Aug the 20 184[rip]
Harriet E. Ford died Jun. 29th 1[rip]
[Page Nine -- Reverse of Page Eight, Half is Missing]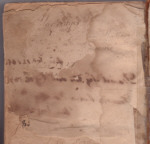 Marriages
Daniel D. Ford and Katharine M. Thornton was married
April the 29 1827
---------------END TRANSCRIPT----------------