Flatla Bible
Bibelen eller den Hellige Shrift, Christiania, Grendahl, 1862.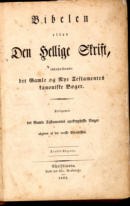 This is a medium-sized Norwegian Bible in fair condition. The
pages and endpages are all present and in good condition,
with moderate foxing. The last page of the old testament is
missing, and there are no pages between it and the new
testament, including a title page if there was one. Perhaps
there were family pages here that were removed before I
obtained the volume. The boards are both present and solid,
but with some wrinkling, and the spine has some loss including
a full inch and a half at the top.
This Bible is in the possession of Tracy St. Claire and transcribed
to the best of my ability. The Norwegian transcription is done
without any knowledge or appropriate font. Help appreciated.
SURNAMES:
FLATLA
HVATTUM
-----------------TRANSCRIPT STARTS-----------------
[Page One -- Inside Front Cover]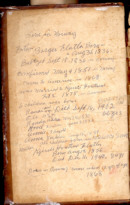 Born in Norway
Father Borger Flatla Born -
= Aug 31. 1836
Babtized Sept 18 1836 in Norway
confirmed May 4 1851 in Norway
came to America in 1868
was married to Kjerti Hvattum
Feb 2 1875 in America
6 children wer born Borger Volle died Sept 18 1902 66 yrs
Randi died 4 y
Ole 17 1/2 yr
Randi Bilder Mar 24, 1880
Hovel Flatla June 3 1882
Annie 7 day old
Anna Koehler Aug 15 1881
all children born in Mitchell Co Iowa
mother Kjersti Hvattum Flatla
Born Aug 19, 1856
Died Dec 11, 1940 84 yr
Born in Norway came when 12 yrs of age 1868
[Page Two -- Opposite Page One]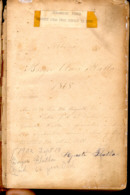 Norwegian Bible
Brought Over From Norway in 1868
Tithorer
Borger Olsen Flatla
1868
Aar 1836 den 31he Aug ?? ??
Olsen Flatla fod ?il Verden ??
Garrden [??] Flatla i fevnaher ?? ??
18de September ?? Aar ag hen
?? 4de Mai 1851
1902 Sept 18
Borger Flatla Died
66 year Old
Kjersti Flatla
[Page Three -- Reverse of Page Two]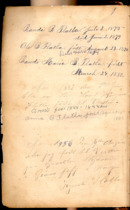 Randi B. Flatla Juli 3 1875
dod June 2 1879
Ole B Flatla fodt August 23 1876
Died April 16 1894
Randi Maria B Flatla fodt March 24 1880
Mar 1882 den 3-- June Cleo va Son Hovel
Borger fodt til Verden
Annie fodt 1888 1888 died
Anna B Flatla fodt Agust 15 1889
Mar 1856 den 19d August bleu jeg fodt ??
Verden ?? ?? i ?? ?? i Norge
Kjerski Flatla
---------------END TRANSCRIPT----------------