Fitz Randolph Bible

This bible was up for auction on ebay in March 2003. The seller gave permission for the following photographs and transcriptions to be submitted.
Transcribed by Tara Hawkins.
Description:
This 1834 plain, brown-leather-covered bible has early family records for a couple of the families that descend from Phineas F(presumably for Fitz) Randolph and his wife Margaret Mundy. The bible pages are intact, except for the two detached "Family Record" pages, but all pages have a moderate overall foxing (light brown spots). I did not see any images in the bible. The bible may have been recovered at a later date, as the front and back pages are glued to the covers and do not seem to have been the original first and last pages. The two family record pages record the birth dates for the family of Phineas F. Randolph and his wife Margaret (Mundy). There is no geographical information, other than that I am able to report that the bible came from a New Jersey estate. In addition to the two family record pages, there are two folded and handwritten sheets that list most of the same information about the same couple of families, but also most of the death dates for most of the same people.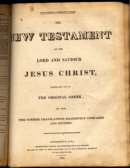 SURNAMES:
FITZ RANDOLPH (F. RANDOLPH)
FORCE
HANNED [HARNED?]
MANN
MUNDY
RANDOLPH
SMITH
---------------------------------------------------------------------------------------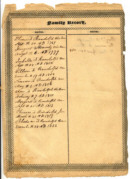 Family Record
Births
Phineas F. Randolph was born
Sept the 30 AD 1769
Margaret Mundy was born
Augst th 6 AD 1779
Isabella F. Randolph born
Sept th 24 AD 1802
Willson F. Randolph born
December th 17 AD 1804
Simeon F. Randolph born
May th 2 A.D. 1806
Ann F. Randolph was born
Febuary th 7 AD 1810
Margaret F. Randolph born
Sept th 25 AD 1813
Phineas F. Randolph Jun
March th 31 AD 1819
Rhoda Ann[?] F. Randolph born
December th 28 AD 1822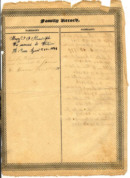 Family Record
Marriages
Mary T. F.Randolph
Was married to William
H. Force Agust th 1 1844
Isabella FitzRandolph
Was married to James
H. Mann[?] Jan 1st 1851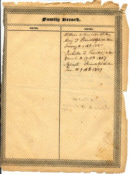 Births
Willson F. Randolph children
Mary T. Randolph was born
January th 8 AD 1825
Isabela F.Randolph born
December th 17 AD 1827
Sylvester Randolph was born
June th 9 AD 1829

Family Record
Deaths
Ann F. Randolph departed
This life May th 2 AD 1812
Willson F. Randolph
Departed this life Feby th 24 1830
Fineas F. Randolph 1840
Departed this life July 4th
Rhoda Ann Randolph
Departed this life Decr 23th 1843
Margaret FitzRandolph departed
This life Dec 23rd 1849 in
The 71st[?] year of her life
Mary T. F.Randolph
Departed this life March th 7 1845

Notes included in bible: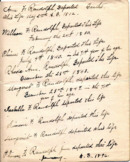 Births
Phineas F. Randolph was born
Sept the 30th A.D. 1769
His wife Margaret Mundy was born
August the 6th A.D. 1779
Their children
Isabella F. Randolph was born
Sept the 24th AD 1802
Willson F. Randolph was born
December the 17th A.D 1804
Simeon F. Randolph was born
May the 2nd AD 1806
Ann F. Randolph was born
February the 7th A.D. 1810
Margaret F. Randolph was born
Sept the 25th A.D. 1813
Phineas F. Randolph was born
March the 31st A.D. 1819
Rhoda Ann F. Randolph was born
December the 28th A.D. 1822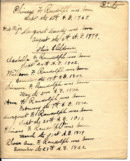 Deaths
Ann F. Randolph departed
This life May 2nd A.D. 1812
Willson F. Randolph departed this life
February the 24 th 1830
Phineas F. Randolph departed this life
July 4th 1840 in the 71st years of his ages…[?]
Rhoda Ann Randolph departed this life
December the 23rd 1843
Margaret F. Randolph, departed this life
December 23rd 1849 in the 71st
Year of her age
Isabella F. Randolph departed this life
Simeon F. Randolph departed this life
Margaret F. Randolph departed this life
Phineas F. Randolph Jun departed this life
January A.D. 1896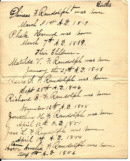 Births
Phineas F. Randolph Jun was born
March 31st AD 1819
Phebe Hanned [?] was born
March 7th AD 1819
Their Children
Matilda V. F. Randolph was born
January the 29th A.D. 1843
Isaac S. F. Randolph was born
Sept 28th A.D. 1846
Richard B. F. Randolph was born
November 12th A.D. 1848
Jonathan H. F. Randolph was born
April 12th A.D. 1851
Jane L. F. Randolph was born
April 1st A.D. 1854
Ann [worn away] Ann Amelia F. Randolph was born
May 9th A.D. 1856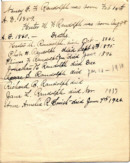 Nancy [?]. F. Randolph was born Feb 14th
A.D. 1859
Hester M. F. Randolph was born Aug 9th
A.D. 1860
Deaths
Hester M. Randolph Died Oct 1861
Phebe H Randolph died Sept 4th 1895
Phineas F. Randolph Jun died Jan 1896
Jonathan H Randolph died Dec
Isaac S Randolph died Jan 16 1910
Richard B Randolph died
Jane L Randolph died Nov 1917
Ann Amelia R Smith died June 7th 1926