Finney Bible
The Holy Bible Containing the Old and New Testaments,
According to the Authorized Version, With Explanatory
Notes, Practical Observations, and Copious Marginal References
by Thomas Scott. Published in six volumes (I think); this is volume
two only. New York, Collins and D Hannay, 1832. Stereotype
of A Pell and Brother, New York.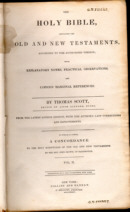 This Bible is in good condition. The binding is tight and complete
the spine is nearly complete with some loss at the top and around
the label. The signatures are holding well. There is some minor
bookworm scarring in places (not affecting the text) and wear to the
boards.
This Bible is the Bible of Rev. George Finney. He was son of CT
Rev. War veteran Sylvester (Silvester in this Bible) Finney and brother
to the famous Rev. Charles Finney, Evangelist and president of
Oberlin College in in 1800s. Both are mentioned in this Bible.
Below the Bible transcript are some notes I took in researching this Bible.
They are NOT part of this original Bible record and are just provided for
additional information. I am not a particularly good typist -- please examine
the original source to be ultra-sure of the content.
Transcribed by Tracy St. Claire, tracy@stclaire.org, in possession of
Scott Finney.
SURNAMES:
FINNEY
WHITNEY
BUTTERS
BROWN
COLE
RICE
TROWER
-----------------TRANSCRIPT STARTS-----------------
[Page One -- Inside Front Cover]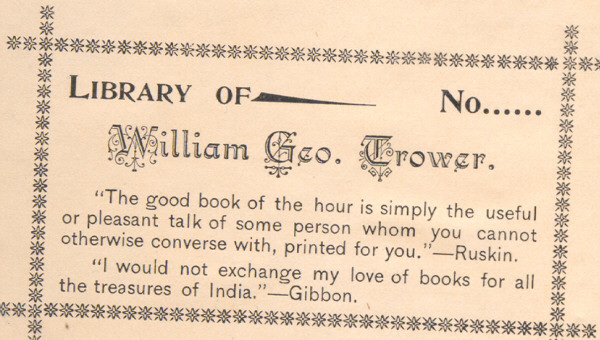 Library of William George Trower
[note: this person may or not be related. The book may have just been
in his possession at one time.]
[Page Two -- Family Record Marriages]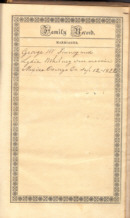 George W Finney and
Lydia Whitney were married
Mexico Oswego Co Sep 12 1822
[Page Three -- Family Record Marriages]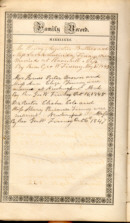 Mr. Henry Augustus Butters and Mifs Sarah Lucinda Finney
were married at Haverhill Mafs
By Rev Geo W Finney May 3 1843
Mr Parnes Porter Brown and Mifs Ann Eliza Finney
were married at Newburyport Mafs.
By Rev. Geo W Finney Oct 16 1845
Dr Rector Elisha Cole and Mifs Mary Philanda Finney
were married Newburyport Mafs
By Rev Geo W Finney Oct 6th 1847
[Page Four -- Births]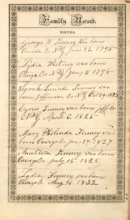 George W Finney Was born Oneida Co N Y June 23 1795
Lydia Whitney was born Otsego Co N Y Jany 5 1798
Sarah Lucinda Finney was born Jefferson Co N Y Oct 29 1823
Cyrus Finney was born Jeff Co N Y April 6. 1825
Mary Philinda Finney was born Oswego Co Jan 29. 1827
Ann Eliza Finney was born Oswego Co July 15 1828
Lydia Finney was born Oswego Co Aug 16. 1832
[Page Five -- Births (very faint)]

Lu??? Butters
Feb 8th 1895
1847
1832
15
[Page Six -- Family Record Births]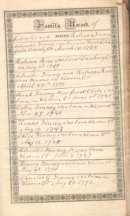 Silvester and Rebecca Finney Births
Silvester Finney was born in Kent Litchfield County Ct March 15 1759
Rebecca Rice was born Danbury Ct in Aug 9th 1759
Silvester Finney and Rebecca Rice were married in Warren Ct April 29th 1779
Sarah Finney their first child was born in Warren Ct June 1st 1780
Dotia Finney was born in Warren Ct Nov 29 1781
Zenas Finney was born Warren Ct Aug 19 1783
Chloe Finney was born Warren Ct Aug 12 1785
Silvester Finney Jr was born Warren Ct June 4 1787
Harry Finney was born Warren Ct May 4th 1790
Charles G Finney was born in Warren Ct Aug 29. 1792
[Page Seven -- Family Records (Deaths Crossed Out)]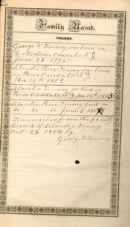 George W Finney was born in Brotherton Oneida Co N Y
June 23 1795
Silvester Rice Finney was born in Paris Oneida Co N Y
Jan 15th 1802
Silvester Finney Jr Died in Paris Oneida Co N Y Jan 15th 1803
[in this entry the "3" in "1803" looks like it was written over an
"8", like it used to read "1808"]
Silvester Rice Finney Died in Do Do Do
June 3 1808 [in this entry the reverse happened, the 1808
overwrote 1803. The family had two children both named
Silvester and both died, and he transposed the dates, I
suppose]
Transcribed from the family Record of Silvester Finney Oct 23
1854 by
George W Finney [signed]
[Other Notes of Interest]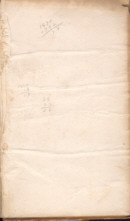 On the inside back cover, there are some mathematical notations that appear to
calculate people's ages at death. One could guess at the death dates at
some people in this Bible using these doodles, I imagine.
1870
1792
78
1880
23
57
69
27
42
1881
27
54
---------------END TRANSCRIPT OF BIBLE ----------------
[From the Whitney Family of Connecticut, and its Affiliations, being
an attempt to trace the descendants, as well in the female as the male
lines of Henry Whitney, from 1649 to 1878. Authors Phoenix, S. Whitney,
New York, privately printed 1878.]
pp 473-4
Children of George Washington Finney and Lydia Whitney
Sarah Lucinda Finney b. in Henderson N Y 29 Oct 1823; married 3 May
1843 by her father, at Haverhill, Mass, to Henry Augustus Butters, a tanner
whose parents lived in Haverhill, and previously in Medford and Andover
Mass. He was born in Andover 3 Sept 1817, son of Francis and Betset (Griffin)
Butters. They lived in Haverhill until 1864, and then moved to San Francisco,
Cal, where they were living in 1874.
Cyrus George Finney, b. in Henderson N Y, 6 Apr 1825; a dentist, settled
in San Francisco Cal; and there died of consumption 11 Apr 1862, unmarried,
and was buried in Mountain View cemetery at Oakland, Cal.
Mary Philanda Finney, b. in Mexico, N Y 29 Jan 1827, married 6 Oct 1847
at Newburyport, Mass. by her father to Rector Elisha Cole, a dentist, of Danton,
Mass, who was born in Madison, Ohio, 20 Nov. 1819, son of Justin and
Clarissa (Merriman) Cole. They lived in New Orleans La. for two years, in
Haverhill, Mass., two and a half years; in San Francisco, Cal., for seven years;
and settled , in July 1858 at Oakland, Cal., where they were living in 1874.
Ann Eliza Finney, b. New Haven N Y 15 July 1828, married, 16 Oct 1845, at
Newburyport Mass., by her father, to James Porter Brown, a silver-plater who
was born at West Newbury Mass., 26 May 1812., son of Reuben and Elizabeth
(Greenleaf) Brown. They took up their residence in Haverhill, Mass, moved
20 Apr 1848 to Milltown, St. Stephen's New Brunswick, and settled, 1 Apr 1860
in San Francisco, Cal., where they were living in 1874.
Lydia Elizabeth Finney b. in Mexico, N Y 16 Aug 1832 married 8 Jan. 1857, in
San Francisco, Cal. by Rev. Edward S. Lacy, Congregational, to Thomas Gihon,
an engraver, who was born in Belfast Ireland, 19 Dec. 1830, son of Thomas and
Mary (Hutten) Gihon. He emigrated to New York City in 1842 and went fron there,
in 1850, to California. They were living in San Francisco in 1874.
p 458
Nancy Wright, b in Manlius, N Y 28 Apr 1805, married 2 Feb 1831 at Ellisburgh,
N Y Sylvester Finney, who was born in Henderson N Y , son of Zenas Finney, and
g. son of Sylvester and Rebecca (Rice) Finney. She died 2 Oct 1831, in Canada
West.
[Finney-Phinney Families in America: Descendants of John Finney of Plymouth
and Barnstable Mass., and Bristol, R.I., of Samuel Finney of Philadelphia Pa., and
Robert Finney of New London, Pa. Howard Finney, W Byrd Press, 1957.]
p 22
Summarized
Sylvester Finney born 3/15/1759 was the son of Josiah Finney b. Feb. 24, 1727/8
in Swansea, MA d Aug. 27, 1773; m Sarah Carter of Litchfield Connecticut, who was
born December 21, 1732 and died June 16, 1777. She was a daughter of Thomas
Carter and Sarah Gilbert. His brothers and sisters and where he fits in--
Josiah b Jan 6 1756
Sylvester b March 15 1759
Sarah b June 6 1761 m Judah Eldred
Lucinda b Jan 28 1763
Zenas b Dec 8 1764 Kent CT d before Sept 16 1777
Levina b Oct 28 1766
Cyrus b Oct 6 1771
[Revolutionary War Pension File]
Sylvester Finney's File # is S16114. It give a complete account of his military
activity but not much genealogy information. There is a letter handwriiten by him --
actually by another and signed by him -- in 1838. In it he states he is living in
Oberlin Ohio with a son, and his wife was dead, and his children were living in
New York, Michigan and Ohio. Heritage Quest (online and available usually at
your library) has this record digitized.