Ferrier Bible
Primary family name: Ferrier
My name and email address: Sharon Burke maburke26@yahoo.ca
How did I get this Bible record? From my cousin who is the keeper
Description: leather-bound, 14" x 10", by 2.5" thick. Printed and published
by The London Printing Company
Title: The New Testements by the Revd. Matthew Henry
Anything else in bible?: original marriage certificate, church program 1932,
newspaper photo, family register
Where did this family live?: Originally Kirkintilloch, Scotland. Immigrated
to Canada (Perth, Ontario) in 1815 and the Bible was brought with them.
Who currently has this Bible?: My cousin
SURNAMES:
FERRIER
BUFFAM
WEAVER
ROWAT
GIBBONS
LEISTER
MACGREGOR
CARSCADDEN
ANDERSON
AVERY
MCLAUGHLAN
ENNIS
HOLMES

-----------------------------------------------------------------------------
Ferrier Family Bible
Inside Front Cover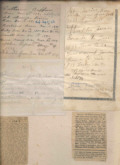 Top left-hand corner
Catherine Buffam Born Nov 25th 1871 - Died July 27-43
John Alexander Ferrier Born Dec 17th 1851 - Died Aug 4-23
Bertrand Born Nov 13 1891
Baby Born Dec 12th 1893 Died Dec 24 1893
Anna Maud Born Mar 20th 1897
John Byron Born Aug 4th 1899
Helen Buffam Born Dec 29th 1904
Middle left-hand side
1813
John Ferrier son of Abraham Sr
Weaver, Waterside and Christina Rowat, born 16 October 1813
Registered at the parish of Kirkintilloch, in the county of Dunbarton
Bottom left-hand corner(Newspaper obituary - 1923 handwritten on top)
Ferrier - In Perth, on Saturday, August 4th, Mr. John A. Ferrier, aged 72 years.
Ferrier - After conducting his harness business as usual last Friday, Mr. John A. Ferrier was suddenly seized with illness that night and death followed early on Saturday morning the news of which caused a great shock to his wide circle of friends and acquaintances in Perth and surrounding district. The late John A. Ferrier was born in Perth on Dec. 17, 1850 of Scottish parents who in the early days had founded a harness and saddlery business in Perth in which he was an apprentice. In his earlier days he resided in the United States, later returning to Perth and for years engaged in business at the corner of Gore and Herriott streets, and afterwards on Wilson street West and his products had a wide sale. Deceased was of a quiet and retiring disposition but enjoyed the respect and esteem of all with whom he came in contact either in a business or friendly way. Deceased was a member of St. Andrew's Church in long standing and in which he was a faithful and constant worshipper. Surviving are his wife, formerly Miss Katherine Buffam of Fallbrook, two sons Messrs. Bertrand and Byron of Perth, three daughters, Miss Helen of Perth, Mrs. Leister and Miss Anna of Toronto, one sister, Mrs. Thomas Gibbons of Brockville, and one brother, Mr. William Ferrier of Perth. The funeral was held from his late residence on Monday afternoon to Elmwood Cemetery. Rev. Dr. Scott conducting the services. The pallbearers were Messrs. G.G. Farmer, Peter Hope, W.J. Rabb, W.J. Flett, T.J. Devlin and John Croskery.
Top right-hand corner
John Ferrier Born in the Year of our Lord 1850 Dec 17
Walter Ferrier Born in the Year 1853 June the 24
Jane Susanah Ferrier Born in the Year 1856 July the 7
William Ferrier Born in the Year 1861 Sept 14
Maggie Tena Ferrier (Mrs MacGregor Calif Dead)

Bottom right-hand side (Newspaper obituary)
Bffuam - On Friday morning of last week, there passed peacefully away to the great beyond, the spirit of Mr. Samuel Buffam. Deceased had been suffering for the past few months from cancer of the stomach, so that death came as a blessed release. The late Mr. Buffam was born at Fallbrook, only a short distance from where he died, 65 years ago. In his younger days he traveled considerably, being one of the volunteers from Ontario to go West in the Lois Riel rebellion in 1869. Deceased leaves a widow, four daughters, Mr. James Ennis, Fallbrook, Mrs. J.A. Ferrier, Perth, Mrs. Maxwell and Miss Georgina, Vancouver and three sons, William in Springfield, Mass, and Fred and Alfred at home. The funeral took place on Sunday afternoon to Playfair cemetery and a large concourse of relatives and friends paid their last respects to the departed.

First Page
Top left-hand corner (Newspaper notice - date 1924 handwritten in top right corner)
MARRIED
Carscadden - Ferrier - On Monday, Sept. 8th by Rev. R. B. Cochrane, M.A., Toronto, Anna, second daughter of Mrs. And the late John A. Ferrier, Perth to Mr. Cecil O. Carscadden, Phm. B., Toronto, only son of Mr. And Mrs. R.J. Carscadden, Lisle, Ontario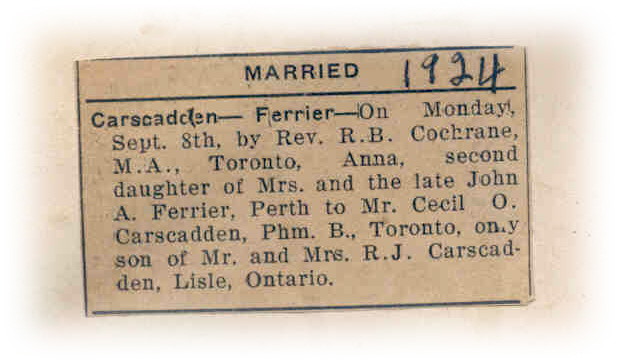 Second Page

Top left-hand corner (Newspaper obituary - date 1922 handwritten in top left corner)
Death of Mr. Samual Buffam
On Monday, January 23rd, the call of the Death Angel came to the home of Mr. Fred Buffam of Fallbrook and gently released the soul of his mother from the frailty and weariness of the flesh. Her death had been anticipated for some time, but the Lord had graciously spared her for a little longer during the Christmas season and into the New Year. During this time she learned to resign herself into the Saviour's keeping and fully trusted in Him so that she could confidently say, "It is well with my soul." She longed to be with Christ as being "far better." The loving hands of her children ministered to her needs with comfort even to the end. Born on the 3rd of December, 1847, she lived her life-time in the neighborhood of Fallbrook. She was the daughter of William Anderson and Margaret Avery. Her long life of seventy-four years was one of health and activity until towards the end when asthmatic trouble arose and complications followed. In 1869 she married Mr. Samuel Buffam, and lived in happy union with him for forty-two years, rearing a family of healthy children, who now have their own homes - Katie, (Mrs. John Ferrier) of Perth; Emma, Mrs. A. P. Maxwell of Vancouver; William and Fred J. of Fallbrook; Alfred of Edmonton; Georgina, (Mrs. W. G. McLaughlan) of Vancouver, and Maggie, (Mrs. Jas. Ennis) at Bennett's Lake. Those residing far away were unable to be present at the funeral service conducted in the home by the Rev. J. K. Matthews, minister of the Playfair Methodist Church, to which the deceased mother was warmly attached. On Wednesday afternoon many relatives and friends gathered in silent but deep sympathy and respect, and joined in the service. A favorite hymn specially requested by Mrs. Buffam before hear death, "There is rest for the Weary," was sung, and an appropriate message upon "the rest that remaineth for the people of God" was given. It is remarkable to note how the little group of aged mothers in the neighborhood of Fallbrook, like Anna waiting in the temple of God for the final call, are passing Home.
They are gathering homeward from every land,
One by one, one by one!
As their weary feet touch the shining strand,
Yes, one by one!
Reverently the remains were borne to their last resting place in the little Playfair cemetery, Messrs. James and George Anderson, Robert Buffam, John Foster, Wesley Walroth and Herbert Gallagher acting as pallbearers. A wreath of beautiful flowers laid there by the members of the bereaved family betoken that land where everlasting spring abides and never withering flowers.
Back cover
Marriage Certificate
Certificate number A147584
Province of Ontario
By His Honour the Honourable SIR ALEXANDER CAMPBELL, Knight Commander of the Order of St. Michael and St. George, Member of the Queen's Privy Council for Canada, &c., &c., &c., LIEUTENANT-GOVERNOR of the PROVINCE OF ONTARIO.
Whereas, (now hand written) John A. Ferrier of the Town of Perth in the County of Lanark and Province of Ontario, Bachelor and Kate Buffam of the said town Perth, Spinster (end hand writing)
Are determine to enter into the holy estate of Matrimony, and are desirous of having their Marriage publicly solemnized; in order that such their honest desires may the more speedily have the due effect, and that they may be able to procure the same to be lawfully solemnized with-out publication of banns, I do hereby, for good causes, give and grant this License of Faculty as well to them the said parties contracting, as to all or every person or Minister duly ordained and lawfully exercising this Ministry within the Province of Ontario, to solemnize and perform the same: Provided always, that by reason of any Affinity, Consanguinity, Precontract, or any other lawful cause, there be no legal impediment in this behalf; otherwise if any fraud shall appear to have been committed at the time of granting this License, either by false suggestions, or concealment of the truth, that they this License shall be null and void to all intents and purposes whatsoever.
GIVEN under my Hand and Seal-at-Arms, at Toronto, this Tenth day of July, in the year of Our Lord one thousand eight hundred and ninety, and in the Fifty-fourth year of Her Majesty's Reign.
Issued this (hand written) Thirtieth day of December 1890.
(signature) W. A. Field
Issuer of Marriage Licenses in the County of (hand written) Lanark.
Family Register

Inserted in Bible
| | | |
| --- | --- | --- |
| NAME | PLACE OF BIRTH | DATE AND REMARKS |
| Christina | Perth, Born 14th July | 1845 |
| Margret Elisabeth | Perth Born 14th July | 1847 |
| John. A | Perth Born 17th Dec, | 1850 |
| Walter Lawson | Perth Born 24th June | 1853 |
| Jane Susannah | Perth Born 7th July | 1856 |
| William | Perth Born 14th September | 1861 |
| Walter L. Ferrier | Married Minnie E. Holmes | 14th Sept 1878 |
| Minnie E Holmes | Born Feb 1855 | and Married 4th September 1878 Died 9th Oct 1882 |
| John Holmes Ferrier | | Born 23 June 1879 |
| John Holmes Ferrier | | Died 22nd Oct. 1880 |
| Lloyd Hamilton | Born Perth | 2nd June 1882 |
| Walter L. Ferrier | Married to Elisabeth A. Ferrier | 21st Nov 1883 |
| Elisabeth Ann Ferrier | | Born 16th June 1853 |
| Walter L Ferrier | | died 20th January 1890 |
| Mary Isabella Ferrier | | Born August 11th 1886 Adopted by Walter L. Ferrier Apr. 21st. 1888. |