Eshleman Bible Page
This page was separated from the Bible, so the
date of the Bible is unknown.
Martin and Elizabeth Eshleman are found in Providence,
Lancaster County, Pennsylvania in the 1880 US Census.
The birth dates here correspond with the ages there -- Martin
being 56 and Elizabeth being 64. Both were born in PA as
were all four of their parents.
The LDS site has a GEDCOM listing Martin Eshleman with this
birth date as the son of Jacob Eshleman and Ann Groff. Perhaps
he was related in some way to Elizabeth -- Jacob had a brother
named John. To confuse matters even more, This GEDCOM
lists Jacob's father and mother as: Martin Eshleman and Elizabeth
Groff. Yes, another pair of them.
Transcribed by and in the possession of Tracy St. Claire,
tracy@stclaire.org.
SURNAMES:
ESHLEMAN
GROFF
-----------------TRANSCRIPT STARTS-----------------
[Page One -- Geburten]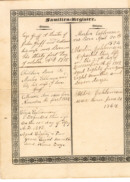 Eliza Groff A Dauter of John Groff and Catherine Wis wife
was Born on the thirty first Day of October AD 1815
Children Born to Martin Eshleman and Eliz his wife A born
Groff
Catherine Ann was born November the first 1852
Eliza Eshleman Departed this life on the 10st day of May
A.D. 1898.
Aged Eighty & Two Years. Eight months and Nine Days.
Martin Eshleman was Born April 20th 1824
Martin Eshleman Departed this life on the 27th day of
December A.D. 1909. Aged Eighty five years Eight months
and seven days.
Abbie Eshleman was Born June 21. 1864.
---------------END TRANSCRIPT----------------