Elief Bible

The Holy Bible Containing the Old and New Testaments,
New York: American Bible Society, 1860.



There are three unlabelled photos in this Bible: a man,
and two outdoor photos of a family. The front flyleaf
is signed Elizabeth Elief Sangerfield. The handwriting
is terrible, please check the scans and make your own
judgment.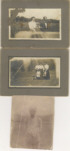 This Bible is currently in the possession of Tracy St. Claire
of .
tracy@stclaire.org

SURNAMES:
ELIEF
SANGERFIELD
ANDRESS

TRANSCRIPT BEGINS HERE____________________

[Page One -- Family Record]



Elisabeth Elief born in the year 1855

Andrew J. Elief Borned March 3 1853

Elisabeth B. Elief Borned July 9 1855

Mary M. Elief Borned July 19 1859

Cora Elief 1863 Borned January 3 1863

David [??] Leroy Andress Borned
September 6, 1854


[Page Two -- Family Record]



David Leroy Andress Borned

[Page Three -- Family Record]



Christain Elief Died September 3 1870

Eliza M Elief Died february 9 1870

David Leroy Andress Died December 5 1913
Aged 59 years and 3 months

----------END TRANSCRIPT--------------------------