Eldridge Bible
The Holy Bible Containing the Old and New Testaments,
Philadelphia, Jesper Harding, 1850.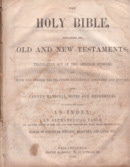 This Bible is pretty beat up. The pages inside are worn from
use and heavily foxed in areas (common with this edition),
but appear to be complete including the flyleaves. The front
and back covers are present but detached.
The 1880 Census has Levi living alone, as a widower,
in New Jersey.
Transcribed by and in the possession of Tracy St. Claire,
tracy@stclaire.org.
SURNAMES:
ELDRIDGE
FORD
-----------------TRANSCRIPT STARTS-----------------

[Page One -- Front Flyleaf]
[This looks like it was stamped on. It is stamped in other
areas of the Bible as well.]

Levi C. Eldridge
Henrietta C. Eldridge
[Page Two -- Marriages]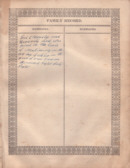 Levi C. Eldridge and Henerety ford was joind in the
binds of Matrimony on the 11th day of october in the
year of our Lord one thousand eight forty eight
[Page Three -- Births]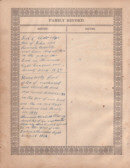 Levi C Eldridge Son of John and Hannah Eldridge was
born August the 10 in the yer of our Lord one thousand
eight hundred and twenty seven 1827
Henerety ford doter of nathanel and Eliabeth ford was
borned december 27 in the yer of our Lord one thousand
Eight hundred and thurty one 1831
Hannah Eliabeth Eldridg daughter of Levi and Henerety
Eldridg was bornd aprill 26 in the year of our Lord one
thousand eight hundred 1854
[Page Four -- Deaths]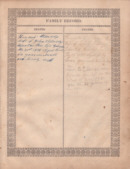 Hannah Eldridge wife of John Eldridge departed this life
Febuary the 21st 1839 Aged thirty five years one month
and twenty days
Henrietta C. Eldridge the Wife of Levi C Eldridge Departed
this life January the 15 1878 Aged forty Seven years and
twenty days
Levi C. Eldridge who departed this life on the 15th [illegible]
of Nov 1900 in the 74 years of his age.