Drake Bible
The Holy Bible Containing the Old and New Testaments Together with the
Apocrypha, Mathew Carey, Philadelphia, 1814. Hills #214 with Apocrypha
and "inferior paper".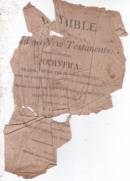 This Bible is in fair condition. It is apparently complete but lacking front and
rear flyleaves. The initial title page is nearly destroyed, but all the other pages
are intact with wear and heavy foxing. As Hills mentions, some editions of
this book are on "inferior paper" and that describes this volume. The family
pages are have elegant handwriting and embelishments, however.
Aaron, Nancy and son John are found in Middlesex County, NJ, in the 1850
federal census.
Transcribed by and in the possession of Tracy St. Claire, tracy@stclaire.org.
SURNAMES:
DRAKE
WOOD
HARNED
-----------------TRANSCRIPT STARTS-----------------
[Page One -- Marriages]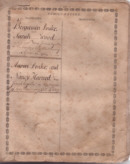 Benjamin Drake; and Sarah Wood,
was Joined together in the bands
of holy Matrimony
April 13th 1769
Aaron Drake; and Nancy Harned; Was
Joined together in the bands of holy
Matrimony,
Octr 4th, 1809,
[Page Two -- Births]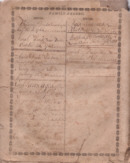 Bejamin Drake was born May the 10th, 1746
Sarah Wood, Was Born October 24th 1748
Aaron Drake Was Born Decmber 9th 1783
Nancy Harned Was Born January 22d 1793
Childrens ages, of the ? Aaron & Nancy Drake
Benjamin Drake was born March 11th 1810
Jonathan H. Drake Was Born July 4[?] 1811
John Drake Was Born December 3d 1812
Charles Drake Was Born ?? 10th 1815
?? Drake Was Born Sept ??th 1816 & Departed
?? ?? ??
Ages; Continued,
Ellis Drake Was Born Decr 1st [?] 1817
Matthias F. Drake was Born February 5, 1820
Josiah D. Drake Was Born November 7th 1822
Elizabeth Ann Drake Was Born July 24, 1825
[Page Three -- Deaths]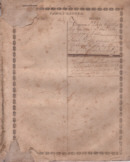 Benjamin Drake Departed This Life, March 26th, 1810
in the Tryumphs of Faith
Sarah Drake Departed this Life August 12th 1809,
Rejoiceing in Hope of a Blefsed Immortality
Benjamin Drake, Eldest Son of Aron & Nancy Drake,
Departed this life, 26 November, 1828, in New York in
the nineteenth year of his Age