Dodds Bible
Hitchcock's New and Complete Analysis of the Holy Bible,
New York, A.J. Johnson, MDCCCLXXIV (1874).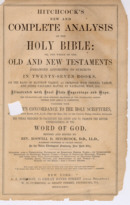 This Bible is in poor condition. It is covered in some vinyl
upholstery fabric. I peeked underneath, and it looks like the
spine is entirely gone and the boards may or not be original.
Pages are loose.
This family appears to be from Boyle County, Kentucky,
appearing in the 1880 census there. All members of the family
as well as their parents were born in Kentucky. James was a
carpenter.
Transcribed by and in the possession of Tracy St. Claire,
aaf@ais.net.
SURNAMES:
DODDS
MCDONALD
BROWNING

-----------------TRANSCRIPT STARTS-----------------
[Page One -- Births]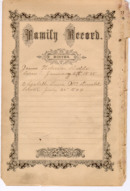 James Roberson Dodds born January 25 1838
Elizabeth Lewis McDonald born July 30 1844
[Page Two -- Births]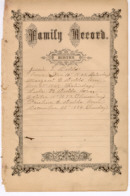 Jessie T. Dodds born Nov. 14 1868. (Saturday)
Margaret C. Dodds born Nov. 27 1869. (Saturday.)
Lula B. Dodds born October 18 1873. (Thursday.)
Pauline C. Dodds born December 28 " 1884. (Sunday)
[Page Three -- Marriages]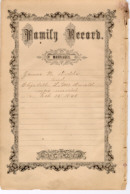 James R. Dodds
and
Elizabeth L. McDonald
was married
Feb. 13 1868
[Page Four -- Marriages]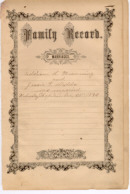 Addison L. Browning
and
Jessie T. Dodds
was married
Wednesday September 21 1892
[Page Five -- Deaths]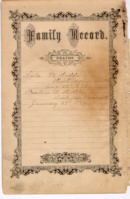 Lula B. Dodds
Died age 10 months
Aug. 25 1874
Pauline E. Dodds
Died age 9 yrs 1 month
January 29 1894
[Page Six -- Miscellaneous]
Born to Jessie T. and Add L. Browning
Bross [??] Dodds Browning July 26 1893
Born to Jessie T. & A. L. Browning
Leland Lewis Browning January 18 1895
---------------END TRANSCRIPT----------------