Curtis Bible
The Holy Bible Containing the Old and New Testaments, Philadelphia,
R.P. DeSilver, 1839.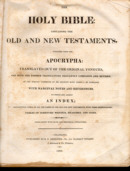 This is a large, high-quality Bible that I purchased because it is very similar
to the 1838 DeSilver Bible that is my family Bible. I had hoped that it did not
contain any family information, so that I could make a near duplicate of my
family Bible. It does contain another family's information, and I do not ever
pull family information from Bibles.
This Bible is in good shape, although the binding has separated all in one
piece from the Bible itself. The pages are all present and in good condition.
The binding has scuffing and a 2" x 1" piece missing from the spine.
This family all died really young. All of the daughters died within just years
of their marriage, and all the children died before they were forty, three of
the four before they were thirty. They had maybe two grandchildren between
them all (by this record) that survived infancy, and would have had progeny to
inherit this Bible -- Adaline L. Osborn (born 7/12/1872) and Joseph A. Brown
(12/26/1878-3/4/1949).
Transcribed by and in the possession of Tracy St. Claire, tracy@stclaire.org.
SURNAMES:
CURTIS
CARTER
DEVOURSNEY
BROWN
OSBORN
VAN VLIET
-----------------TRANSCRIPT STARTS-----------------
[Page One -- Front Flyleaf]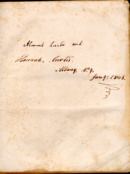 Almond Curtis and Hannah Curtis
Albany, N.Y. Jany: 1845
[Page Two -- Marriages]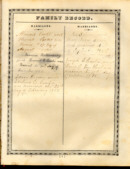 Almond Curtis and Hannah Carter was
Married th 17 Day of August 1840
Marcus DeVoursney and Harriet L Curtis
was Married the 30th day of december 1861
Adam Brown and Adaline E. Curtis was
married the 25st day of February 1878
Ira Osborn and Mary Anna Curtis was married
16th of September 1869
Joseph A. Curtis and Mary L. Van Vliet was
married the 12th day of October 1875
[Page Three -- Births/Deaths]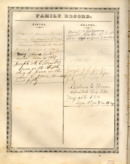 Harriet Louisa Curtis Born September 3d 1841
Adaline Elizabeth Curtis Born October 6 1844
Mary Anna Curtis Born June 4 1847
Joseph A. C. Curtis. Born on the Fifth day of June
in the year Eighteen Hundred and fifty
Harriet L. DeVoursney Departed this life April 20th
1865. Age 25 years 7 months 17 days
Mary Anna Osborn departed this life Oct 2nd 1872
Joseph A.C. Curtis departed this life July 14th 1879
Adaline E. Brown departed this life May 20th 1884
Age 39 yrs 7 mo. 14 days
[Page Four -- Births/Deaths]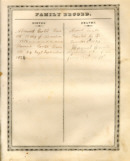 Almond Curtis Born the 18 day of November 1818
Hannah Carter Born the 24 Day of September 1824
Almond Curtis Departed this life December 11th 1852
Hannah Curtis departed this life June 18th 1871
[Page Five -- Births/Deaths]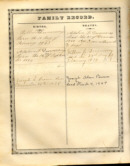 Wilbur Devoursney Born the 18 day of Febuary 1863
Adaline L. Devoursney Born the 14 day of September 1864
Adaline L. Osborn Born July 12 1872
Joseph A. Brown Born December 26th 1878
Adaline L Devoursney died the 21 of December 1864 Age
3 months and 7 days
Wilbur C. Devoursney died the 28th day of February 1874
Joseph Alan Brown died March 4, 1949
---------------END TRANSCRIPT----------------