Cunningham Bible
This Bible record was transcribed from the New England Historical and Genealogical Register, July, 1907, Volume LXI, page 303.
Transcribed by Tracy St. Claire, tasaint@comcast.net .
SURNAMES:
CUNNINGHAM
CHEEVER
GIBSON
DAVISON
Below this line, verbatim from source, with some formatting changes.
-------------------------------------------------------------------------------------------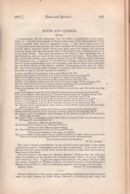 NOTES AND QUERIES
NOTES.
CUNNINGHAM. -- In the REGISTER, Vol. 55 (1901), I published a brief genealogy of "Andrew Cunningham of Boston and some of his Descendants," from which reprints were made in pamphlet form. I had spent much time for several years preparing this, and had consulted all known public and private records that I thought would throw any light on the family, but nothing could be found that gave the exact date of the death of the original Andrew or of his wife Sarah. The very information for which I was searching has at last turned up, and, as usual, in the most unexpected manner. Some little time ago I received a letter, upon another subject, from Mr. William Henry Davison of Pensacola, Fla., a member of the Harvard College Class of 1845, who said that his great-grandmother was a Cunningham (born Aug. 19, 1692). Mr. Davison has been kind enough to present this Bible to me, and I give herewith a copy of all the records it contains: --


Andrew and Mary Cunningham whas mared March 25, 1714
Abigail Cunningham whas born ye 5 of July at about nine morning 1715
Mary Cunningham whas born ye 2 of March at about 5 morning 1718
Abigail Cunningham dyed ye first of May about four in morning 1718
Andrew Cunningham whas born the 2 of Octob aboute eaight in the morning 1719
My wife Mary Dyed the 15 of October betwixt eaight & nine morning 1721
And was maried to my second wife Mary May the 4 1722
John Cunningham was born the third of March betwext fore and fife in the morning 1722-3
John Cunningham dyed the 22of Septemb betwext seven and eaght morning 1724
John Cunningham whas born th 5 of Decemb betwext seven and eaght evening 1724
Sarah Cunningham born th 13 of of Octob between 11 and 12 at noone 1726
John Cunningham dyed th 20 of May between 3 and 4 in the afternoone 1728
Susanna Cunningham born the 30 of Novemb betwext 4 & 5 afternoon 1728
Susanna Cunningham dyed th 29 of Decemb. aboute 2 in the afternoone 1730
My mother Sarah Cunningham dyed January th 24 betwen twelf and one morning, aged 66 years, 1730
John Cunningham born Octobr th 8 betwen twelf and one in the morning, 1731
Mother Cheever dyed the 21 of January between 3 and 4 in th morning 1732-3
My father Andw Cunningham dyed January th 27 between 4 and 5 in the morning 1734-5 aged 81 years
My brother Wm. Cunningham Dyed Novbr the 11 between 3 and 4 in the afternoone 1744 aged 50 years lacking 6 ds
[Then in a different handwriting]
My Husband Dyed April ye 27, 1752 aged 60 years
[Then in a still different handwriting]
Mrs. Mary Cunningham died July 14 1774, aged 85 years
[Then, at the bottom of the page, is written]
The grave stone of this couple was in perfect condition in 1860, under an arch of the Atheneum in the Old Granary Burial Ground, Boston, Massachusetts.

Their Great Great Great Grandson
W.H. Davison
The most valuable information in this record is the exact date of the death of the first Andrew Cunningham and his age at that time. It is a pity that it did not state the place of his birth, which the writer of this note presumes to have been in Scotland.
The record gives the date of "Mother Sarah's" death as Jan. 24, 1730, and from its position in the record this probably means 1730-1, or, as we should now reckon it, 1731. It gives her age at this date as "66 years," but her birth (as Sarah, daughter of William Gibson) is stated in Boston Town Records as having been on Feb. 5, 1665-6, making an apparent discrepancy of one year.
Boston, Mass. Henry W. Cunningham
------------------------------------------------------------------------------------------------------