Crim Bible
The Complete Domestic Bible Containing the Old and
New Testaments, Hubbard Brothers, Philadelphia, Boston
and Cincinnati, No date, but the copyright on the
family record illustration is 1876, and some on plates
is 1874.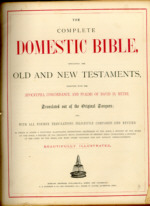 This Bible is in excellent condition, with the boards
reinforced but with little use. There is some scuffing
and minor chipping on the boards and spine.
Transcribed by and in the possession of Tracy St. Claire,
tracy@stclaire.org.
SURNAMES:
CRIM
HUMPHREY
-----------------TRANSCRIPT STARTS-----------------
[Page One -- Family Record]
| | | | | |
| --- | --- | --- | --- | --- |
| Name | Place of Birth | Date of Birth | Date of Marriage | Date of Death |
| Wm. S. Crim | Jordanville, N.Y. | Aug. 6 1836 | March 20 1888 | Sept. 12 /96 |
| Fannie [?]J. Humphrey | Jordanville, N.Y. | Aug. 6 1864 | March 20 1888 | |
| Mary M. Crim | Jordanville, N.Y. | May 18, 1890 | | |
| Floyd E. Crim | Jordanville, N.Y. | Apr. 15, 1893 | | |
---------------END TRANSCRIPT----------------