Coburn Bible
The Holy Bible Containing the Old and New Testaments,
New York, American Bible Society, 1850.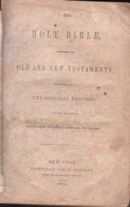 This Bible is in fair-good condition, with the original binding
intact but chipping and coming loose. The pages all appear
to be present, but there is scattered foxing and tanning. An
average 12mo ABS Bible. 73rd edition.
I think most of the family record entries are those of John
Coburn, as the death of Cornelia is written in the same hand.
Transcribed by and in the possession of Tracy St. Claire,
tracy@stclaire.org. This Bible was returned to descendant
Richard Poll of Kentucky.
SURNAMES:
COBURN
CONVERSE
-----------------TRANSCRIPT STARTS-----------------
[Front Cover Gilded Inscription]

Girard House
Presented by the Phila. Bible Society
[Page Two -- Front Flyleaf]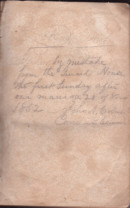 "Look at This"
Taken by mistake from the Girard House the first Sunday
after our marriage 28 of Nov 1852
John A. Coburn
Cornelia L. Coburn
[Page Three -- Family Record]
John Andrew Coburn son of Wilson & Ann W. Coburn Born
Nov 25th 1823 Maysville Mason Co Ky
Cornelia Lee Converse daughter of Elijah & Rebecca A.
Converse Born Jany 30th 1833 Columbus Franklin Co Ohio
"Married"
John A Coburn & Cornelia Lee Converse Married Thursday
Morning Thanksgiving day Nov 25th 1852 in Columbus Ohio
By Revd N Gaylord Universalian Minister
[Page Four -- Family Record]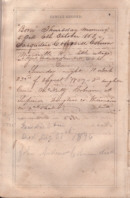 "Born" Thursday morning 5 Ock 6th October 1853
Jacqueline Converse Coburn
Maysville Ky little cottage 3 Street ?? & Markett Dr. Duke
Born Sunday night 10 oclock 23rd of August 1857 2nd
daughter Carrie McNulty Coburn at Superior Douglass Co
Wisconsin on 2nd Street " Smith
Oct 8 1795 Grandma born
Died Dec 31st 1896
John Andrew Coburn died
[Page Five -- Family Record]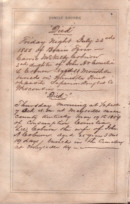 "Died"
Friday night July 23rd 1858 of Brain Fever Carrie McNulty
Coburn 2nd daughter of Jahn A & Cornelia L Coburn Aged
11 months buried on Minesota Point opposite Superior
Douglas Co Wisconsin
"Died"
Thursday morning at 1/2 past 7 Ock A.M. at Maysville Mason
County Kentucky May 19th 1859 of Consumption Cornelia
Lee Coburn the wife of John A Coburn Aged 25 years 3 mo
19 days. buried in the Cemetary at Maysville Ky
[Page Six -- Comment on NT Title Page]

1795
1893
98 Grand mas age
[Page Seven -- Back Flyleaf]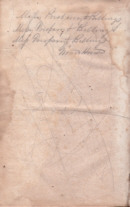 Mifses Presbury & Billings
Mifses Presbury & Billings
Mifses Presbury & Billings
?? ?? [two words, might be "was here"]
[Page Eight -- Back Flyleaf]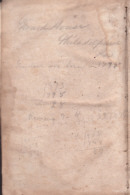 Girard House
Philadelphia
Grandma was born in 1795
Romans 7-4
Ed was born April 28 1844
1905
1853
52
1903
1844
59
---------------END TRANSCRIPT----------------