Carroll Bible
These Bible pages were acquired from a man in New York
who saved them from Bibles "that were being thrown away".
They are in good condition. I estimate them to be later
19th century.
There are not many entries here. On the first marriages
page reads "from Whitesboro, N.Y. area", possibly
written by the collector in New York.
This is one of those Bibles where you can see why it
didn't get far in being passed down through the family.
Transcribed by and in the possession of Tracy St. Claire,
tracy@stclaire.org.
SURNAMES:
CARROLL
MACKIN
-----------------TRANSCRIPT STARTS-----------------
[Page One -- Marriages]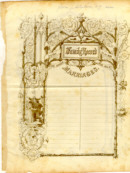 from Whitesboro, N.Y. area
[Page Two -- Births]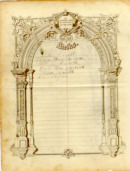 Julia Carroll
Born Aug. 4. 1848
Wm. J. Carroll
Born Nov. 25 1885
Lizzie Carroll
Born 30 Jan
[Page Three -- Deaths]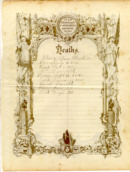 Mary Ann Mackin
Born July 4 1852
Died Oct 5 1905
Wm Carroll
Born Sept 18 1848.
Died June 17 1887
Lizzie Carroll
Born Jan 30
Died Aug 20
---------------END TRANSCRIPT----------------