Bunting Bible Page
This Bible page was excised from the Bible and was
acquired without anything else. It looks to be late 19th
century.
The page has been folded several times. One side is blank;
the other side has several entries in differing handwritings.
The image is not cut off by my scanner. It was trimmed to 8.5"
x 11", maybe to fit a picture frame or a dealer's book.
Rootsweb World Connect entries place this John C. Bunting
in NJ.
Transcribed by and in the possession of Tracy St. Claire,
tracy@stclaire.org.
SURNAMES:
BUNTING
PEARSON
-----------------TRANSCRIPT STARTS-----------------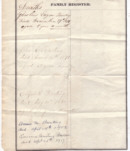 Deaths
Gersham Eagar Bunting Died December 19th 1838
aged 8 year 11 months
John C. Bunting died March 21st 1871 aged 62 years
10 months.
Elizabeth Bunting died Aug 16th 1880, aged 72 years
10 months.
Annie M. Bunting died April 14th 1902
Emma Bunting Pearson died Sept 25th 1917


---------------END TRANSCRIPT----------------