Brunson Bible
The Holy Bible Containing the Old and New Testaments,
...with...Notes...by Thomas Scott. Vol. V only. Exeter,
N.H., Published by Andrew Poor and James Derby, 1830.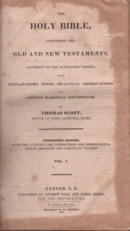 This Bible is in very good shape. The original binding
is intact and in great shape (some scuffing), and the pages
are all present, except for the severe foxing that accompanies
all these editions.
There are many references to Dalinda Grow, b 11/03/1781,
as being born in Somers, Tolland County, Connecticut [per
LDS site].
Transcribed by and in the possession of Tracy St. Claire,
tracy@stclaire.org.
SURNAMES:
BRUNSON
GROW
-----------------TRANSCRIPT STARTS-----------------
[Page One -- Front Flyleaf]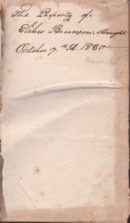 The Property of
Elihu Brunson. Bought
October 7th A.D. 1830
Hardwick Vt. [written in pencil below]
[Page Two -- Rear Flyleaf]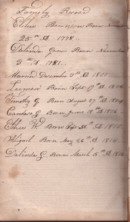 Family Record
Elihu Brunson Born November 25th A.D. 1778.
Dalinda Grow Born November 3th A.D. 1781.
Married December 3th A.D. 1801
Lumen Born Sept. 19th A.D. 1802.
Timothy G. Born August 27th A.D. 1804.
Candace G. Born June 18th A.D. 1806.
Elihu W. Born Sept. 5th A.D. 1810.
Abigail Born May 26th A.D. 1814.
Dalinda G. Born March 5th A.D. 1816.
[Page Three -- Rear Flyleaf]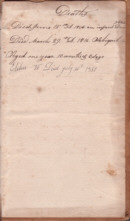 Deaths
Died June 18th 1806 an infant daughter
Died March 29th A.D. 1816 Abigail
Aged one year 10 months & 3 days
Elihu W. Died July 30th 1837
---------------END TRANSCRIPT----------------