Brooks Bible Pages
These pages were removed from the Bible, and therefore
I cannot date the Bible with certainty. They look to be
late 19th century. The first entries (dates 1854-1889) are
all in purple pencil -- written at the same time post-1889?
Transcribed by and in the possession of Tracy St. Claire,
aaf@ais.net.
SURNAMES:
BROOKS
HAMILTON
KOONS
CONKLIN
APPLE
-----------------TRANSCRIPT STARTS-----------------
[Page One -- Marriage Cerificate]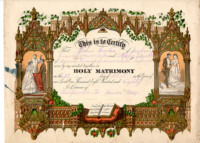 This is to Certify that John Brooks of Jackson Township &
Hancock Co. and Mary L. Hamilton of Brown Township,
Hancock Co., Indiana were united by me together in
Holy Matrimony
on the 22 day of April in the Year of our Lord One Thousand
Eight Hundred and Eighty
In Presence of Benjamin F. Reeves Esq.
[Page Two -- Marriages]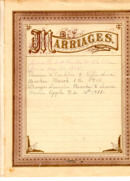 James Herbert Brooks to Ola Alice Koons Dec. 20, 1905.
Thomas W. Conklin to Effie Lena Brooks March 1th. 1910.
George Darwin Brooks to Leona Marie Apple Feb. 15th 1911.
[Page Three -- Births]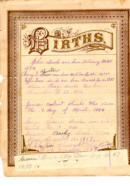 John Brooks was born Febuary the 28 1854
Mary L. Brooks Hamilton was born October the 22 1855
Effie Lena Brooks was born March the 10 1881
Rosa May Brooks Was born November the 22 1882
James Herbert Brooks Was Born The 7 day of April 1884
George Darwin Brooks was born March the 17 1886
Susan Pearl Brooks Was Born November 18. 1887
Charlie Almond Brooks Was Born the 27 December 1889
Cressa Brooks Was Born July the 29 1893
[Page Four -- Deaths]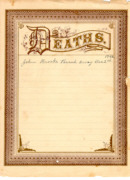 John Brooks Passed Away Dec 2nd 1942
[Page Five -- Memoranda]
Sarah Hamilton died July the 7th 1888.
James Hamilton died February 2nd 1901
---------------END TRANSCRIPT----------------