Bodine Bible
The Holy Bible Containing the Old and New Testaments,
Hartford: S. Andrus and Son, 1850. Hills #1420.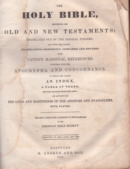 This Bible is in good condition. The binding is intact with cracks
and chipping. The pages are all present with the marbled
endpages. There seems to be some minor water damage, but
altogether a clean copy. Some foxing. No hair, news clippings,
etc that are sometimes found.
Transcribed by and in the possession of Tracy St. Claire,
tracy@stclaire.org.
SURNAMES:
BODINE
ROMINO
AXTELL
-----------------TRANSCRIPT STARTS-----------------
[Page One -- Marriages]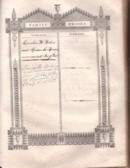 Cornelius W. Bodine and Miriam C. Romino were married Nov
10th 1853
Laura G. Bodine was married to Wm. D. Axtell of Newark, N.J.
Aug 5, 1885.
[Page Two -- Births]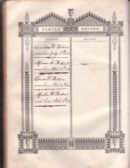 Cornelius W. Bodine was born July 19th 1823.
Miriam C. Bodine was born Oct. 25th 1834
Laura G. Bodine was born Feb 4th 1862
Martha D. Bodine was born Feb 12th 1867.
---------------END TRANSCRIPT----------------