The Holy Bible Containing the Old and New Testaments,
Philadelphia, William Woodward, 1816. Published in
3 volumes, this is volume one only, Genesis through
Nehemiah. Hills #295, Vol 1 with family records in front
and advertisements (!?!) in back.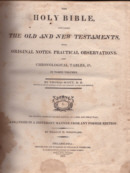 This Bible is in great shape, so much so that it might
have been rebound. If so, someone did a great job of it.
It looks original. Very little foxing and some dog ears.
Transcribed by and in possession of Tracy St. Claire,
tracy@stclaire.org.
SURNAMES:
BLANCHARD
BURBANK
WHITTEN
HILLIARD
POLLARD
---------------START TRANSCRIPT-------------------------
[Page One -- Marriages]
Charles Blanchard and Elmira Burbank were married September
17th 1817
Charles Blanchard and Olive Whitten were married May 6th 1824
[Page Two -- Births]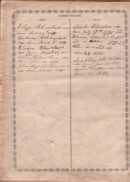 Eliza Blanchard was born Oct 24th 1818
Gustavus A. Blanchard was born March 3d 1821
Elmira Blanchard was born August 29, 1825
Olive Esther Blanchard was born Nov 18 1829
John Augustus Blanchard was born Nov 25 1831
Charles Blanchard was born July 17th 1795 and Elmira Blanchard
his first wife in October 1797 and Olive his second wife Nov
25, 1795
Sarah Elizabeth Whitten was born June 20. 1819.
Lydia [illegible] Whitten was born June 30. 1821.
[I assume these last two are Olive's children by a previous
marriage. TSC]
[Page Three -- Deaths]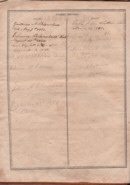 Gustavus A. Blanchard died May 7th 1822.
Elmira Blanchard Died August 30th 1823.
Sarah Elizabeth Whitten died December 7. 1834. NC
Lydia W. Hilliard died
Elmira B Pollard
John A Blanchard Died September 22d 1886 Oldtown
Capt. John Whitten died March 30. 1823.
Rev. Charles Blanchard died July 17th 1873
Mrs. Olive W. Blanchard died Oct 22nd 1873 Oldtown Maine

------------END TRANSCRIPT-------------------------------