Blakey Family Record
This is a four-page family record of the Blakey family originally
of Virginia. The dates end in the 1840s and I believe that is when
this was written.
I believe this was a copy of family Bible entries copied for the
purpose of applying for a Revolutionary War pension. The document
may havebeen compiled for that same purpose, if a Bible did not exist.
Families were required to provide proof of dates of birth and marriages
and relationships, and family Bible entries were the most common form
of providing this proof before government offices began recording that
information. I see many family record documents around this time
frame presumably for this purpose -- it would also explain why no
deaths were recorded. They were not needed -- no dead people
would ever inherit rights to George's pension.
Of interest -- this family gave a couple women the name "George" as
first or middle names. Well -- I guess they could have been giving men
"Margarett" or "Sally" as a first name or "Ann" as a middle name. I
don't recall seeing that before.
Please view the scans before using this material, as some of the spelling
can be open to interpretation.
Transcribed by and in the possession of Tracy St. Claire,
tracy@stclaire.org.
SURNAMES:
BLAKEY
WHITSILL
HADEN
HOGAN
PROCTOR
DUNCAN
BREATHILL
THOMAS
HOPKINS
DAWSON
MILLER
MCLEAN
BOYER
-----------------TRANSCRIPT STARTS-----------------
[Page One -- Family Record Births]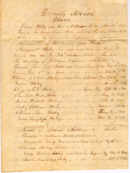 Family Record
Births
George Blakey was born in Culpeper Cty Va. Nov. 22nd 1749
He was the son of Thomas Blakey who was the Son Churchill
Blakey & was raised in Buckinham Cty in Virginia.
They emigrated to this country from Wales --
Margarett Blakey his wife was born in Amherst County Va. on
the 26th October 1767 -- She was the daughter of William &
Elenor Whitsitt.
Pamela their first child was born in henry cty va. Dec. 27th 1787
Reuben their 2nd was born " " " " " Dec. 21st 1789
William Whitsitt Blakey was born in Davidson Tenn Feb. 5th 1792
Thomas Blakey " " " " " June 17th 1794
Elizabeth W. Blakey " " " Logan Ky. Sept. 13 [?] 1796
Churchill Haden Blakey " " " " " Aug. 7 1799
James Whitsitt Blakey " " " " " Sept. 13 1801
Sally Patterson Blakey " " " " " April 1, 1804
Ellenor Ann Blakey " " " " " October, 18, 1806
George Douglafs Blakey " " " " " Feb. 20, 1809
Names of Grand Children & Births
Pamela & William Hadens Children
Margarett George Haden was born in Logan Ky Oct 11
William Blakeys Children
George Thomas Blakey was born in Logan Ky Feb 5 1822
Sarah Ann Eliza Blakey " " " " " Oct 1 1823
[Page Two -- Births]
Births
Thomas Blakeys Children Day Mo Yr.
William Whitsitt Blakey was born 21 Aug 1824
Churchill Haden Blakey " " 26 Aug 1829
Pamela Blakey " " [no date]
Ellenor Ann Blakey " " [no date]
Mary Ellen Blakey " " 15 Sept 1841
Elizabeth & John Hogans Children
John William Hogan was born 9 Oct 1818
Margarett George Hogan " " 10 Feb 1821
Raleigh Thomas Hogan " " [no date]
Elizabeth Pamela Hogan " " [no date]
Susan Rebecca Hogan " " [no date]
Sarah Ellen Hogan " " [no date]
Mary Eliza Hogan " " [no date]
George Ann Hogan " " [no date]
Virginia Mosee Hogan " " [no date]
Harrison Hogan " " 12 Apr. 1841
James Whitsitt Blakeys Children
William Haden Blakey was born 19 Dec. 1823
Reuben Ewing Blakey " " 7 March 1826
Margarett Pamela Blakey " " May 1828
George Douglafs Blakey " " 17 Aug 1831
Thomas Churchill Blakey " " 26 Jany 1834
Mary Ellen Blakey " " 6 Dec 1835
James Whitsitt Blakey " " 31 Jany 1838
[Page Three -- Births]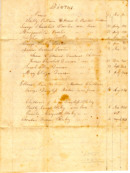 Names Day Mo Yr
Sally Pattison & James S. Proctor's Children
George Churchill Proctor was born 21 Jany 1827
Margarett D. Proctor " " 27 July 1828
Adolphus Young Proctor " " 6 Aug 1830
George Blakey Proctor " " 21 June '33
James Samuel Proctor " " 7 Nov. '35
Same & Edmund Duncans Children
Thomas Churchill Duncan was born 21 Dec. 1840
Sarah Ellen Duncan " " 22 Sept. 1842
Mary Eliza Duncan 8 July 1844
Ellenor Ann & Resin Hadens Children
George Douglafs Haden was born 19 Aug 1834
Children og George Douglafs Blakey
Sally George Blakey was born 5 Nov. 1835
Pamela Margarett Blakey " " Oct
Reuben Thomas Blakey " " 4 March 1842
[Page Four -- Marriages]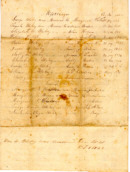 Marriages Do Mo Years
George Blakey was married to Margarett Whitsitt 10 Jany 1787
Pamela Blakey was Married to William Haden 15 Dec. 1808
Elizabeth W. Blakey " " " John Hogan 16 Dec. 1817
William W. Blakey " " " Susan Breathill 9 April 1821
Thomas Blakey " " " Ann H. Whitsill 28 Jany 1823
James W. Blakey " " " Nancy J. Haden 28 Jany 1823
Sally P. Blakey " " " James S. Proctor 24 Jany 1826
Churchill H. Blakey " " " Sally ? Haden 27 Feb. 1826
George Dunlap [?] Blakey " " " Lucy L. Thomas 25 Feb. 1830
Ellenor Ann Blakey " " " Edmund Duncan
Grand Children
Margarett G. Haden was Married to John Hopkins
Margarett S. Hogan was Married to Benoni Dawson
Margarett P. Blakey " " Miller
George Thomas Blakey " " " S. E. McLean
Sarah Ann Eliza Blakey " " " Boyer
Wm W Blakey was married Jan 1821
Oct 1 1823
---------------END TRANSCRIPT----------------