Birum Bible
The Holy Bible Containing the Old and New Testaments, New York,
American Bible Society, 1846. New Testament date, 1845.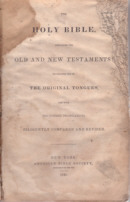 The Bible is in fair-poor condition. Most of it is in good condition, but the
front flyleaves through the middle of Exodus have some rodent chewing
damage. "Dust to dust", as they say. The binding is intact, but the upper
part of the spine and cover show some burn marks, evidence of being in
a fire at some point. It is a smaller Bible, about 5" x 7", owned by Mary
Ann Birum.
There is some evidence to suggest that this family was from Indiana and
Iowa.
Transcribed by and in the possession of Tracy St. Claire, tracy@stclaire.org.
SURNAMES:
BIRUM
HOLLINGSWORTH
TRUITT
BYRUM
-----------------TRANSCRIPT STARTS-----------------
[Page One -- Front Flyleaf]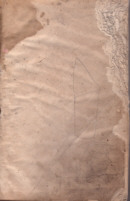 Mary Ann Birum's [chewed off]
[Page Two -- Marriages]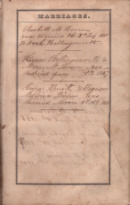 Elisebeth M Birum was married the 3th Feb 1845 to Noah Hollingworth
Hiram Hollingsworth & Mary M. Birum was married June [left blank] A.D. 1857
George Truitt & Frances Melvina Birum Was Married Novem 10th A.D. 1861.
[Page Three -- Births]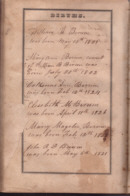 William B. Birum was born May 13th 1801
Mary Ann Birum consort of William B. Birum was born July 30th 1802
Catherine Ann Birum was born Feb 12th 1824
Elisebeth M Birum was born April 11th 1826
Mary Magelin Birum was born Feb 12th 1828
John R. D. Birum was born May 6th 1831
[Page Four -- Births]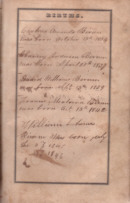 Carline Amanda Birum was born October 13th 1834
Chancey Anderson Birum was born April 21th 1837
David Williams Birum was born Sept 13th 1839
Francis Malvina Birum was born Oct 13th 1842
William Thomas Birum Was Born July the 23 1846
[Page Five -- Deaths]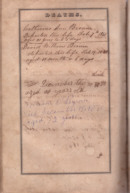 Catherine Ann Birum Departed this life Feb 7th 1845
aged 21 years lack 5 days
David Williams Birum departed this life Feb 19 1841
aged 18 month + 6 days
Mary Ann Birum died December the 14 1850
aged 48 years old
William B. Byrum Died December 18 1870
aged 72 years
---------------END TRANSCRIPT----------------