Beach Bible
The Holy Bible Containing the Old and New Testaments,
Philadelphia, Stereotyped by D. & G. Bruce, 1823 (NT 1821).
Hills #467.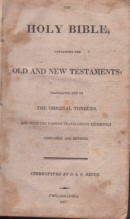 This Bible is in fair-good condition, with the binding in intact
and in good shape with scuffing. The book is split in the middle
od Psalms and this damaged the spine. Some pages are loose near
this split, but all appear present and in fair condition.
There are just a few birth entries in the back, and no indication
of a place.
Transcribed by and in the possession of Tracy St. Claire,
tracy@stclaire.org.
SURNAMES:
BEACH
-----------------TRANSCRIPT STARTS-----------------
[Back Flyleaf]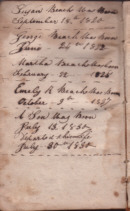 Susan Beach Was Born September 15th 1820
George Beach Was Born June 24th 1822
Martha Beach Was born February 22 1825
Emily R. Beach Was Born October 9th 1827
A Son Was Born July 13 1830 Departed this Life July 30th 1830
---------------END TRANSCRIPT----------------