Beach Bible
These pages were removed from the Bible, and therefore
I cannot date the Bible with certainty. They look to be
late 19th century, and are identical to family pages found
in Hitchcock's New and Complete Analysis of the Holy Bible,
published circa 1870. They were obtained from a man in
New York who pulled family pages from many Bibles before
they were discarded.
There are only a few entries here.
Transcribed by and in the possession of Tracy St. Claire,
tracy@stclaire.org.
SURNAMES:
BEACH
-----------------TRANSCRIPT STARTS-----------------
[Page One -- Births]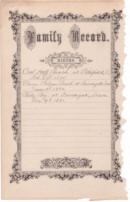 Carl Hoff Beach at Pittsfield, O, Feb. 23d 1875.
Glenn Palmer Beach at Farragut, Iowa June 3d 1880.
Baby Boy at Farragut, Iowa Nov. 9th 1881.
[Page Two -- Deaths]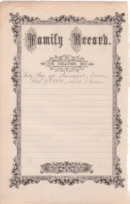 Baby Boy at Farragut, Iowa, Nov. 9th 1881, aged 3 hours.
---------------END TRANSCRIPT----------------