Barrow Bible
This Bible was submitted by Mary Ann. The Bible is in her possession.
"Here is the data from the Michael and Anna Mary Riley BARROW bible circa
1880. The bible was given to me by Natalie Herring BARROW, wife of the
youngest Barrow child, James because of my interest in genealogy.
The bible is in poor condition with the binding falling apart. The front
cover is of a heavy metal type material and quite ornate. The pages inside
seem to be in good condition and quite readable. In addition to the
family data contained in the bible, there are also 3 pages that each contain
3-4 family snapshots, however none of them are identified by name.
Michael Barrow and Anna Mary Riley were married in Philadelphia, Pa and,
after she died in 1897 four days after giving birth, Michael moved his
family to Yeadon, Delaware county, Pa.
Inside the front cover on the first page is written Michael BARROW 1880
The following is the transcription of the pages as I read them."

SURNAMES:
BARROW
RILEY
JONES
-----------------------------------------------------------------------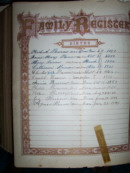 BIRTHS
Michael BARROW was born Nov. 28, 1857
Anna Mary BARROW was born Oct. 31, 1858
Mary BARROW was born March 21, 1880
Catharin BARROW was born Nov. 18, 1881
Charles Joseph BARROW was born Sept 24, 1883
Daniel BARROW was born Jan 7, 1886
Annie BARROW was born Oct 14, 1887
Philip BARROW was born June 11,1890
Helen BARROW was born Aug 29,1893
Jas BARROW was born June 19, 1894
Agnes BARROW was born Jan 21, 1897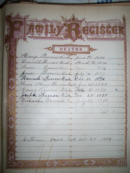 DEATHS
Mary BARROW died June 30 1870
Daniel D. BARROW died March 19, 1885
Annie Barrow died Dec 1876
James Barrow died July 11, 1887
Hannah BARROW died Dec 13, 1896
Anna Mary BARROW died Jan 25, 1897
Agnes BARROW died Feb. 11, 1897
Joseph BARROW died Dec 28, 1898
Michael BARROW died July 23, 1943
2 names illegible
Catharin JONES died Oct 20, 1889
MARRIAGES
Michael BARROW + Anna Mary RILEY was married Feb 25, 1879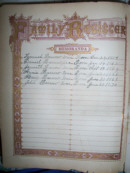 MEMORANDA
Hannah BARROW was born Dec. 24, 1859
Daniel BARROW was born Jan 14, 1862
James F. BARROW was born Sept 19, 1864
Annie BARROW was born June 20, 1866
Mary BARROW was born June 21, 1868
John BARROW was born June 21, 1870