Ayers Bible
No identification of the publisher of the Bible. All title
pages are missing. Volume has the Old Testament, New Testament
and Apocrypha. It is a quarto volume in rough condition from
early-to-mid 19th century.
The binding on this volume is in very good condition, with the
spine and boards all in one piece and with very little damage.
The text, however, has separated completely from the binding
and the collation is in fragments, there are some rodent chewings
and I am sure some pages are lost, although I have not sorted
through them to see how many. All title pages are missing.
There is a body of evidence to suggest this family was from Sussex
County, NJ -- US federal census data, etc.
There is an old rose pressed in this Bible.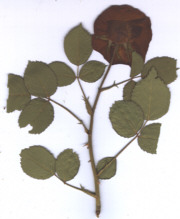 Transcribed by and in the possession of Tracy St. Claire,
tracy@stclaire.org.
SURNAMES:
AYERS
HAVENS
MCMICKLE
-----------------TRANSCRIPT STARTS-----------------
[Page One -- Marriages]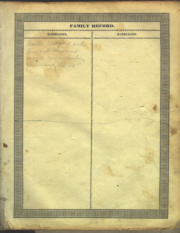 Martha Ayers and Berret Havens were married January 2nd
1855

[Page Two -- Births]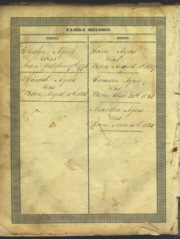 Elisha Ayers was born October 19th 1796
Harriet Ayers was Born August 10th 1806
Jane Ayers Was Born August 13th 1827
Coursen Ayers Was Born Dec. 20th 1830
Martha Ayers Was Born Nov. 15th 1835
[Entry written in pencil and erased below this one. From what I can
determine it says: ??? (maybe Henry) ??? Havers Was ??? Sept. 1878.
This is VERY FAINT and I almost didn't notice it. TSC.]
[Page Three -- Deaths]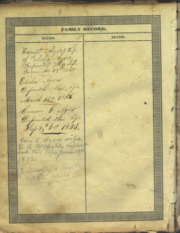 Harriet Ayers Wife of Elisha Ayers Departed this Life December
29th 1840
Elisha Ayers Departed this life March 13th 1853
Coursen G. Ayers Departed this life Sept. 3rd 1853
Jane C. Ayers wife of R. McMickle departed this life June 17th 1872.
12 Timothy 4 Chapter and 7 & 8 verses.
------------END TRANSCRIPT-------------------------------