Austin Bible
This Bible no longer has any of the title pages or other clues that
might identify it. I cannot readily match it to Bibles that I own. Based
on the binding and the printing customs, I am going to give this a
(wide) date estimate of as early as the 1820s or as late as the
1850s. It most closely looks like my ABS volumes of the 1830s (from
a binding standpoint). I assume the entries were written in order,
starting after 1824, and it is possible they were all written at the
same time, putting the date after 1848.
This Bible is in good condition. The binding is tight and complete
the spine is nearly complete but is pulling away in some places.
The boards are scuffed and chipped in some places but are still
nice. The front flyleaves are missing, with the first page being "The
Names and Order of all the Books of the Old and New Testament".
The back flyleaves are also nearly all missing, one remaining page
half-torn. The only page missing in the middle that I know about is the
NT Title page. It makes me wonder if people intentioally remove the
title pages from these Bibles to make them appear older (due to the
family entries). This Bible was sold to me billed as an older Bible.
It seems odd to be missing only those pages.
John Austin born December 9th 1788 is an exact match for the son
of Benjamin Austin and Ann McConnell of Pembroke, Merrimack, NH,
of that date. I am assuming he is that John Austin. I can find no further
information on this family.
Transcribed by and in possession of Tracy St. Claire, tracy@stclaire.org.
SURNAMES:
AUSTIN
BARTLETT
-----------------TRANSCRIPT STARTS-----------------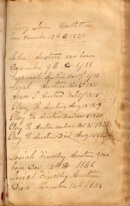 [Page One -- Page Before New Testament Beginning]
Mary Ann Bartlett was born December 12th AD 1824
___________________
John Austin was born December 9th AD 1788
Susannah Austin Dec 19th 1783
Sarah Austin Nov 6th 1811
Amos S Austin Feb 17th 1815
Elsey R Austin Aug 12" 1819
Elsey R Austin Died Dec 15" 1820
Elsey R Austin was born Oct 31" 1822
Elsey R Austin Died Aug 16" 1826
__________________
Josiah Findley Austin was born Dec 14" AD 1846
Josiah Findley Austin Died November 14" 1848