Tolbert Bible
This is a small Bible meant to be carried around, 24 mo. Thw Holy
Bible Containing the Old and New Testament, New York, American
Bible Society, 1878.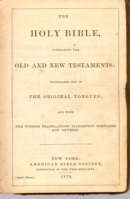 This is a common Bible, but it is in good condition. The binding is
intact, and the latch is still there and still latches. The cloth binding
is fraying and fading, and the cloth has split where the cover meets
the spine. All pages appear to be present and intact.
The LDS site at www.familysearch.org places the marriage of William
A. Tolbert and N.E. South in Douglas (County), Georgia. They are found
in Dekalb County, Alabama in the 1900 US Federal Census. William,
wife Emma, daughters Sarah, Rosetta, and Mary; and sons Worth (?),
Henry and Denny. William was born in Dec. of 1860, Emma in July
of 1861.
Transcribed by and in the possession of Tracy St. Claire,
aaf@ais.net. Returned to descendant Nellie Bowman, Nelib@aol.com.
SURNAMES:
TOLBERT
SOUTH
-----------------TRANSCRIPT STARTS-----------------
[Page One -- Last Page of Old Testament]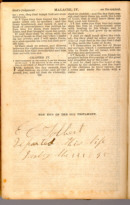 E C Tolbert Departed this life July the 13 1895
[Page Two -- Reverse of New Testament Title Page]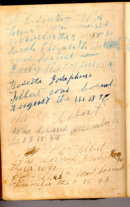 N E South and W A Tolbert Was Married November the 9 1882
Sarah Elizabeth Tolbert was borned July the 27 in 1884
Rosetta Josaphene Tolbert was borned August the 14 1886
M L Tolbert was borned december the 18 1888
W V Tolbert Was borned July the 14 1891
E C Tolbert was borned december the 2 1893
[Page Three -- Back Flyleaf]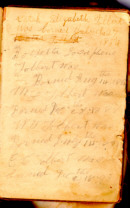 Sarah Elizabeth Tolbert was borned July the 27 1884
Rossetta Josaphene Tolbert was Borned Aug the 14 1886
M L Tolbert was Borned Dec the 28 1888
W V Tolbert was Borned July the 14 1891
E C Tolbert was borned Dec the 2 1893
[Page Four -- Back Flyleaf]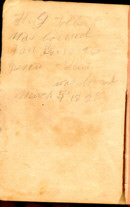 H. G. Tolbert was borned Jan the 28 1896
Denie Tolbert was borned March the 7 1898