Osgood Bible

The Holy Bible Containing the Old and New Testaments,
New York, American Bible Society, 1834. Chandler
and Fanshaw for ABS. Hills #857.



This Bible is structurally failing with spine and cover damage,
but is still intact with original binding, some dogears and
foxing. It is a nice piece.

Although it is not explicitly stated, this Bible most certainly
originates in Hancock County, Maine, because the towns
mentioned are all located there, and the surnames are
those of settlers in that area in the early 1800s.

Almost all entries are in the same purple ink, all the way up to
1872, so it is possible they were all entered at the same time
after 1872, despite the early publication date of the Bible.
Flora's marriage, and death less than a year later, are written
in the same handwriting and pen color.

There are many leaves and flowers within, and a religious tract
and punch-handiwork. Of interest is a "Table of Descents"
listing the ancestors of John Stiles, although no place names or
dates are mentioned, and the connection of John Stiles to this
family is unknown. It looks to be early 19th century, and pulled
from a book. Surnames in this piece are: STILES, BAKER, GAY,
KEMPE, THORPE, WHITE, WARD, BISHOP, WILLIS,
CARTER, BATES, HOLLAND, WILSON, BROWNE, KING,
SMITH and GODFREY.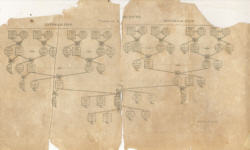 Transcribed by and in the possession of Tracy St. Claire,
tracy@stclaire.org.

SURNAMES:
OSGOOD
TREWORGY
COUSINS
GRINDELL

-----------------TRANSCRIPT STARTS-----------------

[Page One -- Marriages]



Edwin N. Osgood
Flora M. Treworgy May 20th 1871

[Page Two -- Births]



Charles S. Treworgy March 31, 1815 Surry

Emeline Cousins Jan. 3, 1822 Eden

Charles E. Treworgy Feb. 14, 1844. Surry

Emely J. Treworgy Sept. 14, 1845 Surry

Flora M. Treworgy June 8, 1847 Surry

Melvin S. Treworgy Dec. 12, 1848 Surry

Charles E. Treworgy Feb. 10, 1851 Surry

John E. Treworgy Aug 13, 1853 Surry

Emelin Treworgy May 26, 1857 Surry

Clara A. Treworgy Oct. 30, 1859 Surry

Everett M. Treworgy Dec. 7, 1861 Surry

Newell Osgood Aug. 8, 1817 Bluehill

Adaline H. Grindell Aug. 22, 1825 Penobscot

Reuben G. Osgood Dec. 22, 1844 Bluehill

Abbie M. Osgood Dec. 18, 1846 Bluehill

Edwin N. Osgood Mar. 7, 1850 Bluehill

Sophia E. Osgood Feb. 9, 1853 Bluehill

Addie E. Osgood July 18, 1856 Bluehill

Lilian G. Osgood Sept. 13, 1861 Bluehill

[Page Three -- Deaths]



Emelin C. Treworgy died February 23rd 1891

Flora M. Osgood April 13th 1872

Emelin Treworgy June 8th 1931


---------------END TRANSCRIPT----------------