Dame Bible
The Holy Bible, Containing the Old and New Testaments,
New York, American Bible Society, 1873. Hills #1894.
This Bible is in good condition. All pages are present, and the
binding is strong and complete, with a little pull on the spine.
This Bible may have been in a fire, because there is some
blackening on the covers and spine like it had been singed.
Transcribed by and in the possession of Tracy St. Claire,
tracy@stclaire.org.
SURNAMES:
DAME
BURROWS
TUTTLE
STERLING
-----------------TRANSCRIPT STARTS-----------------
[Page One -- Marriages]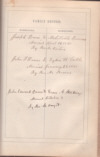 Joseph Dame to Mehitable Burrows Married April 26 1835
By Rev Mr. Weston
John Dame to Lydia Tuttle Married January 29, 1861
By Rev Mr Parsons
John Edward Dame to Grace G. Sterling Married October 7
By Rev Mr Hoyt
[Page Two -- Births]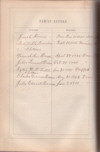 Joseph Dame Born Dec 30 1795 Newington
Mehitable Burrows " Sept 15, 1811 Harrison, Me
Children
Hannah Ann Dame April 27 1836 Dover N.H.
John Samuel Dame Oct 25 1840 " "
Lydia Hill Tuttle Jan 21 1841 Strafford "
Children
Charles Herman Dame May 20 1862 Dover
John Edward Dame Jan 3 1870 "
[Page Three -- Deaths]

Joseph Dame Died Dover N H May 4 1876
Mehitable B Dame Died Dover N H June 6 1886
Hannah Ann Dame Died, Dover N.H. Aug. 9, 1859
Charles H Dame Died Nov 1 1896
[Page Four -- Back Flyleaf]

JD No B 5575 June 4th 1878
---------------END TRANSCRIPT----------------